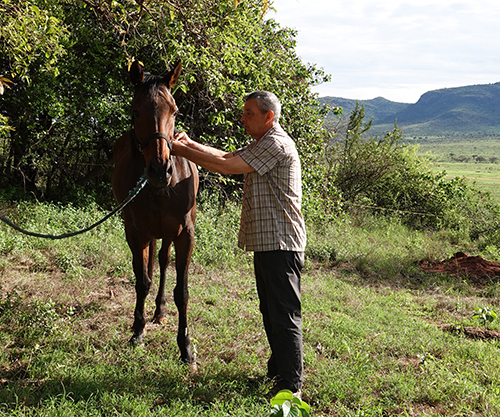 The first 25 years of my career was in a 15 vet mixed practice on the Cheshire Derbyshire border where I was truly a mixed vet dealing with everything from pigs, sheep, cattle and horses to dogs and cats with a few chickens and rabbits.
Much of the area was very rural – straight out of James Herriot, and I ran a branch practice in the market town of Congleton. This was fundamental to how we work now: we knew all our farmers intimately, often spending long hours with them at very unsociable hours in fraught circumstances.
Our practice premises were therefore a meeting place of friends, and this extended to our small-animal patients and clients. As the farming industry declined we maintained the same open-house feel, taking time to enjoy a cup of coffee, putting the world to rights. In my latter years there I did more and more small animal work as well as partnership-duties, and when it was time to move on we were insistent that the lovely feel to our practice should be continued in our next venture.
Which was 3 miles down the road, concentrating on small animals. During this period I came to realise that the way we traditionally treat cats in vet practice is quite simply unacceptable. Look at it this way: if we put in chicken in a pen next to a fox we would say it was inhumane! Yet we had noisy, cold metal cages that housed barking dogs below with cats above – could it be worse?
So when International Cat Care (formerly the Feline Advisory Bureau) challenged vets to improve the cat-friendliness of their practices, we jumped at the opportunity – the start of a long, very interesting, and highly rewarding journey.
It also dawned upon me that highly-processed foods based on waste products was the wrong way to feed both pet and farm animals. And so we moved towards 'species appropriate' foods, feeding cats a diet much closer to that they would have eaten in the wild. Whilst we see a raw diet as optimal there are lots of other better options than dry cereal-based biscuits and the desire to improve our cats' diet has become a personal mission.
At this time I developed my interest in dentistry, aided by human dentist John Halliday, sadly no longer with us, an interest which I have developed over the years, supplemented by training in endodontics (root canal therapy).
We then decided to take a brief break from the rigors of practice ownership before embarking on Jaffa's, which is mine and Jills' personal vision on how we think a cat and owner would like to be treated. I run the clinical side, Jill runs front of house.
And here I am now, part of part of a great team who all share the same ethos, and who all come with extensive but differing experience, adding to our strength and breadth of knowledge.
So I am fortunate to have nearly 40 years experience in all aspects of veterinary practice, bringing different insights to our work. The last 7 years has been immersed in the cat world, learning that much of what we traditionally thought about cats is either wrong or simply doesn't apply all the time – hugely challenging, but very stimulating. Our life is a continued learning curve: we communicate with cat-vets globally on a daily basis, and I regularly contribute cat articles to Sydney University's 'Control and Therapy' publication CVE. Moreover Sarah and I discuss every interesting or challenging case we have, researching options and new information, learning from each other and the wider world, and finding practical ways of translating this into cat care.
On the food front, I am a founder and active member of the Raw Feeding Veterinary Association, RFVS communicating with the good and the great of 'species-appropriate' nutrition, furthering our knowledge and understanding. We have annual conferences attracting speakers of international repute from human and animal nutrition and the veterinary world.
Of late I have become increasingly concerned by the influence of the food industry in the vet profession – firstly by their involvement with vet schools and the teaching of nutrition, and secondly the way they are buying up the profession lock, stock and smokin'. Like most professions, the vet profession is becoming 'corporate' – conglomerates of practices bought up as a financial investment mostly by venture capitalists and other non-veterinary bodies. Share-holder profit and capital accumulation then become primary objectives! Mars Corporation is now the biggest owner of vet practices in the world and has starting buying up corporates in UK and Europe, having expressed their intent to further extend their involvement in the UK market. So the vet that you use may not only sell Mars food (eg Whiskas and Pedigree brands) but Mars may also own the practice. You may not know this as the practice may still trade under its name prior to being bought out. And the corporates are buying the whole supply chain from the vet-drug wholesalers to the vet labs, the pet crematoria, and the equipment suppliers. In my book this is all very scary – we commonly hear from clients who move away and who are unable to find a nearby practice that is not corporate so it isn't always a case of even having a choice.
Let me say that not everything about corporate is bad – but any corporate is only as good as its current owner, and consolidation is the next stage of this process – such as when Mars bought out the Linnaeus group of 75 practices. Let me state that we are fiercely and proudly a family-owned business and have no intention of changing.
So hopefully this will give you an insight into what we are all about and where the whole Jaffa's concept came from.